Have a look at our free 'Grow At Home' video series! Pop on over to our YouTube channel and start getting active and having fun will all the family today!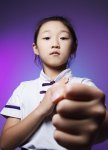 https://www.youtube.com/channel/UCfWI2cERVNmD_bE5OBKsQ0Q
Mindful Wing Chun is a full time martial arts school in Central. Hong Kong. We have a passion for passing on mindful movement and motivating the community to get active and get Mindful. Now more than ever is an important time to spread that message.
Enjoy!